RNLI Sponsored Row and Gig Race.
Published 00:00 on 1 Oct 2021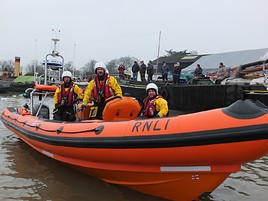 The RNLI Sponsored Row is Back!!! The date for your diary is Bank Holiday Monday 3rd January 2022. Start at approximately 12:00. High Water 13:48.
Due to the 2020 Event being cancelled because of Covid-19 we need your support more than ever to try and recover as much as possible of the resulting funding deficit.
If you want to see what this event is all about click on these links to an article about the Sponsored Row 2019 and the Gallery to view some great photos. As you will see this is a great fun event for both rowers and spectators but with a serious purpose. To raise as much money as possible for the RNLI which is entirely funded by charitable donations.
The invitation to row and entry documents can be can be downloaded below. When downloading pdf files use the return arrow on your browser to re-load this page. Alternatively you can right click on the link below and select the option to open the link in a new page. When the pdf document is closed this page will re-open.
If you need further information or help please contact club.events.mlsc@gmail.com
Downloads
Last updated 17:13 on 1 December 2021