RNLI Sponsored Row and Gig Race.
Published 20:35 on 14 Dec 2021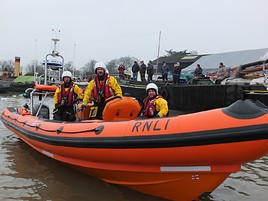 The RNLI Sponsored Row and Gig Race Postponed.
Dear Sponsored Row Supporters & All MLSC Members
Regretfully we have to advise you that in light of the current and worsening Covid19 situation, the MLSC General Committee have had to take the decision that the RNLI Sponsored Row, scheduled to take place on 3rd January, should be postponed.
We can assure you that all options for managing the event within and outside of the clubhouse have been considered in detail. However, the complexity and responsibility of ensuring the safety of participants, helpers and spectators, and the potential risk and consequences in this escalating Covid situation, have given the Committee no option but to conclude that the event should be postponed until a more stable time in 2022.
If you have already submitted an entry fee you will be contacted and your money refunded.
We thank you for supporting the event and hope that you will be able to do so again when it is rescheduled.
Thank you
Events Committee
Maldon Little Ship Club
If you need further information or help please contact club.events.mlsc@gmail.com

Last updated 14:50 on 21 January 2022